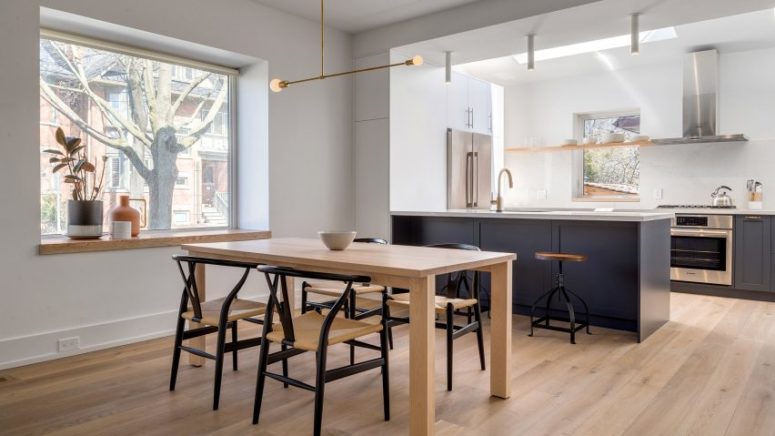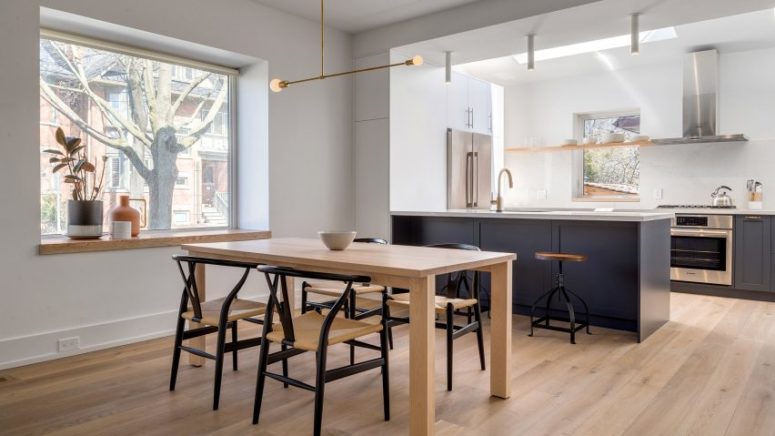 The Hilton House, which dates back almost 100 years, is located east of the Wychwood Barns arts centre, northwest of Downtown Toronto. Previously divided into two apartments, the building was returned to a single family home, which was renovated by StudioAC to give it more spaces for entertaining.
The clients wanted the designers to maintain the street presence of the home, while opening up the interiors and modernizing the space. StudioAC removed partition walls on the ground floor to create an open-plan living space running front to back.
A single-storey, timber-clad extension was added to the rear, providing more room for the kitchen and incorporating skylights for better natural illumination. Between the lounge and dining areas there is a fireplace, which forms a partial divide. A white box surrounds the hearth and a black flue sticks out of the tip, while a wood-lined compartment on the side is used to display flowers.
A simple material palette of white-painted and wooden surfaces is contrasted by the dark grey kitchen island and cupboards, and stainless steel appliances. Ancillary spaces like storage, a mud room, a bathroom and the stairs are all concealed behind a built-out wall.